People who know me also know that I am totally NOT a fan of Louis Vuitton and Dolce & Gabbana. I completely dislike all those leopard - zebra and other zoo patterns / prints on Dolce's design. I also do not like these "classic" LV (hand)bags with those LV logos everywhere. You know what I am talking about. Even though the label is already really old and considered classy by many, I am mostly more reminded of those fake handbags distributed on rubbish markets, bed sheets in Venice or manufactured from plastic by some other countries. Pfuiiii.
BUT: I found some truly nice things: The spring make up collection by Dolce & Gabbana: Cajal / Eye liner in the brightest colors of the season: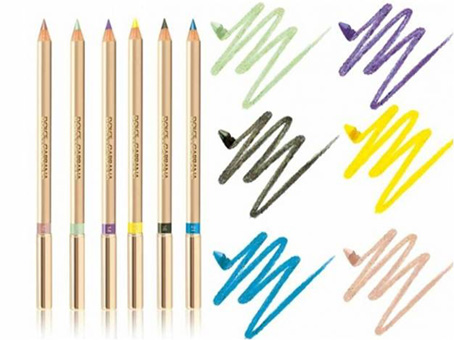 And not to forget: The nail polish in the same colors! I particularly love the yellow one!
Here are some very dishy spring handbags: I particularly like the one on the left: Very much 80ies retro, but nicely pimped with some soft textile in it. The one on the right is top too: Much more suitable for formal occasions. Matched with anything (light) blue - perfect! The one in the middle: I would make an exception and break with my "no LV print bags for me" and get one of those cool & hip half shine through bags. I like.